Products purchased at AEJuice.com
You can use the licensed products on up to 2 computers AT THE SAME TIME and at ANY PLACE.

The license works in a similar way as the Creative Cloud license does.
You CAN use the license at both home and office computers.
You CAN use the license on both Windows and Mac.
You CAN use the license on both desktop and laptop.
You
CAN
use the license with different Adobe Creative Cloud accounts.
What if I change the computer or my computer was stolen? No worries! The license will be transferred to the new computer automatically. You will see this screen (only for the first time you log in with the new computer):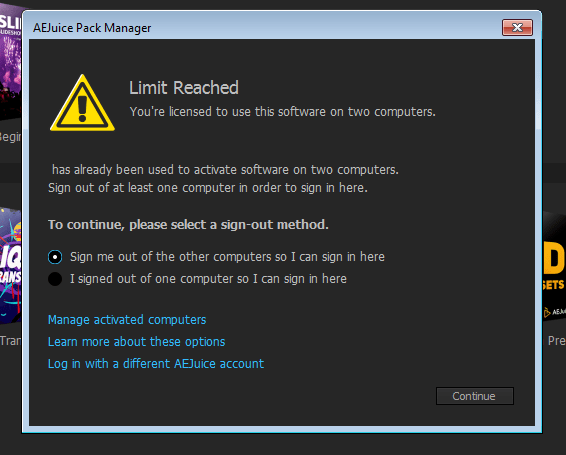 The Limit Reached message is normal, press Continue. We will disconnect all previous computers automatically and let the new computer in.
Products purchased at Videohive.net
You can ONLY use the licensed products on 2 computers registered at AEJuice. Once a Videohive license is activated its attached to the computer forever and cannot be transferred to another computer.

However, you can easily transfer your Videohive license to your AEJuice account, after which youll be able to log in and out from the computer. Your license will transfer with you.
Limit of new computers
If you see this message, it means that youve activated the license on 5 new computers in 24 hours. Since our license is a single user license, our system blocks any new computers. Please wait 24 hours to add any new computers. Please keep in mind that you will be able to use the license only on 2 computers at the same time. If you need more licenses for your team, check out this article aejuice.com/support/licensing-questions/h...